Route information
Start desk:
• Location: Clubhouse "BoTu", Zeilmakersstraat 59, 3025 NV Rotterdam
• Start times: 38 km from 7h30, other distances as from 9am.
• The start desk will close at 5pm.
• Registration fee: € 6,00 pp. Members of the KWBN will get € 1,00 discount when showing their membership card.
• Groups (>10 persons) who are pre-registered before 1st August get a 10% discount.
• Remembrance shields separately for € 2,00 each.
Registering:
On
Saturday 3 and Sunday 4 September
, as from
07h30
for the 38 km, and as from
09h00
for the shorter distances.
The following distances are available:
7 - 12 - 17 - 22 - 28 - 38 km
. All routes have been marked by arrows onto the streets.
Upon registration you will receive:
• Directions on paper for the chosen route(s)
• A description of all significant sights and attractions along the way
How to get to the Botu clubhouse by public transport? - UPDATE
Via NS train station Schiedam Centrum, Central Station Rotterdam and Randstad Rail.
• Metro lines A, B en C: Metro station Marconiplein (exit Tussendijken/Schiedamseweg). The arrows on the pavement will guide you from the metro station to the clubhouse.

UPDATE:
Tram lines 7 and 8 will have a detour due to track maintenance at Vasteland/Eendrachtsweg from July 16 until October 16.
Travel information line 7
Tram line 7 follows the route Woudestein - Rotterdam Central Station v.v.
Destination between Weena and Willemsplein: transfer to tram line 23 Beverwaard at tram stop Weena or subway line D De Akkers or E Slinge at subway station Stadhuis
Destination between Rotterdam Central Station and Willemsplein: transfer to tram line 20, 23 or 25 or subway D De Akkers or E Slinge
Travel information line 8 and 18
> Lijn 8 follows the route Kleiweg — Oostplein v.v.
> Lijn 18 follows the route Spangen - Parksluizen v.v.
General travel information
Plan your journey with the RET Real Time App or the journey planner on ret.nl/en
Take changed departure times, extra travel time, transfers and walking distance into account
RET travel information
RET Detours
RET Real Time App, ret.nl/app
E-mail detour alerts, ret.nl/alert > Twitter @RETRotterdam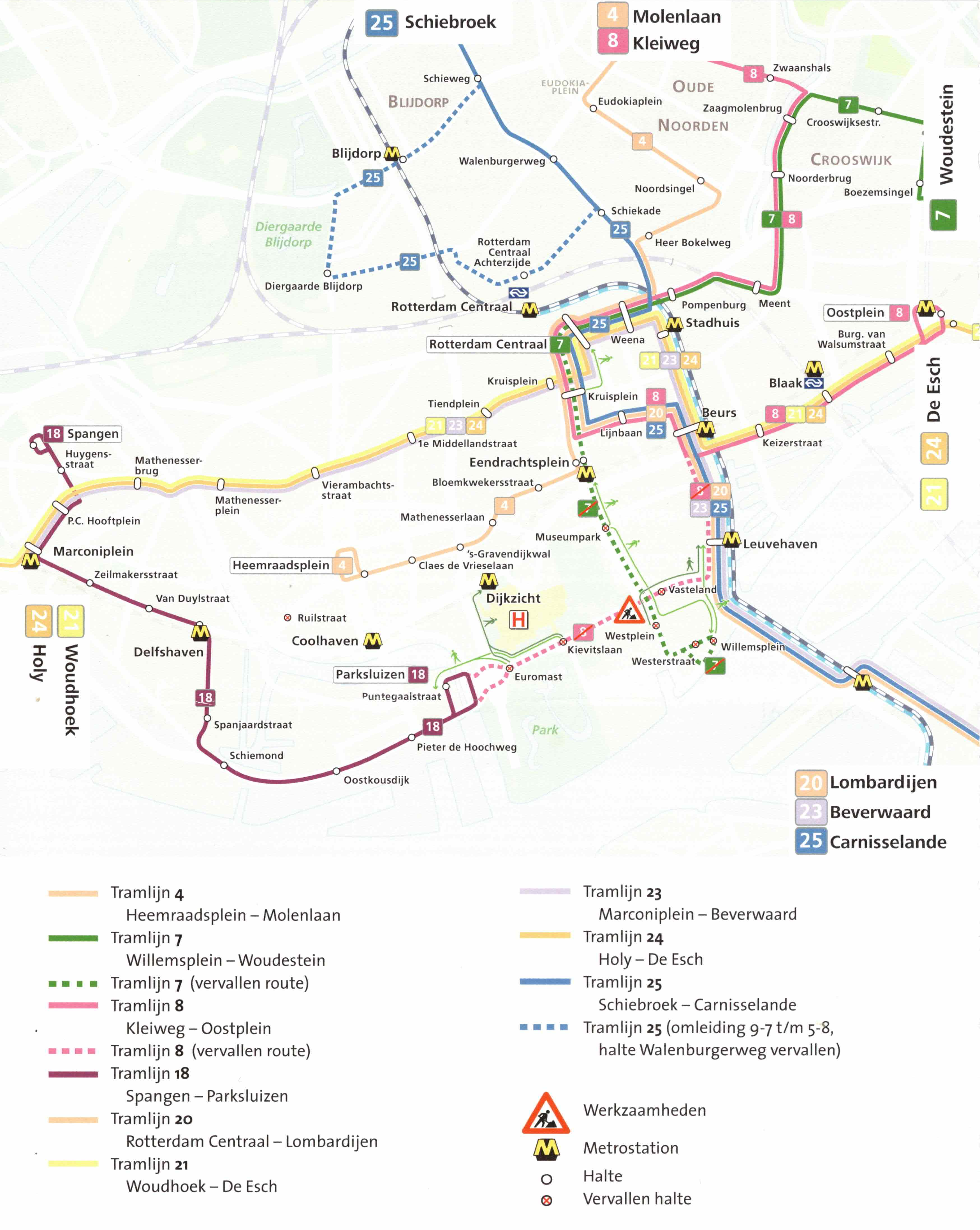 How to get to the BoTu clubhouse by car?
It is recommended to park you car at the closest P+R area. On the "Ring of Rotterdam" these will be indicated. You can park your car on the P+R areas near metro stations Alexander, Kralingse Zoom of Capelse Brug. P+R parking is only free of charge when combined with public transport. From these metro stations, you can get to metro station Marconiplein. From there on, it is a short 5 minute walk to the BoTu clubhouse.
Parking
On Saturdays, there is paid parking from 9am till 6am via car licence plate or "06-parkeren" mobile phone parking!
On Sundays, it is not impossible but tricky to park near the clubhouse because of the additional cars from people visiting the nearby market.
Alternatively, there is another parking garage in the Vierhavenstraat above the shop boulevard. This parking garage is quite near to the clubhouse.
Further informations are available via:
• Email:
wereldhaventocht@botuwandelen.nl